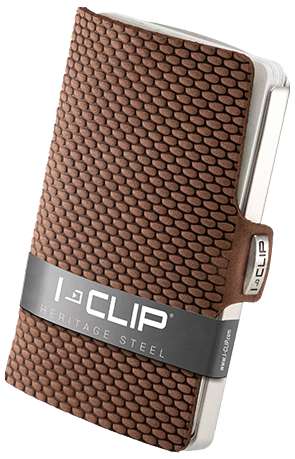 I-CLIP Steel Blasted Milanaise Oak
Sale price Price $100.00 Regular price $100.00
The New Heritage Milanaise Models Made Of Stainless Steel
The Heritage model range is particularly impressive due to the feel of the robust and durable stainless steel frame.
Unique handling: A new and simplified way to use your wallet. Say goodbye to your old, bulky wallet.
Clear & quick card selection: Thanks to the viewing window and the sliding technology, you have a quick and convenient overview of all your cards. The card case offers space for up to 10 cards.
Easy access to banknotes: The new note clip made of high-tech plastic holds a variety of notes (and receipts) securely and firmly so you can always pay quickly and easily.
The new stainless steel frame: The high-quality I-CLIP Heritage Steel models have a stainless steel frame. This is not only corrosion-resistant, temperature-resistant and skin-friendly, but above all hygienic, scratch-resistant and durable.
Leather cover design: Inspired by the classic Milanaise wristwatch look, this beautiful Milanaise leather cover is not only a visual delight, but above all a tactile one. This leather cover design is used exclusively on the I-CLIP Heritage Steel models.
Develops unique patina: The I-CLIP leather develops a beautiful, individual patina over time. No two I-CLIPs are alike and your I-CLIP is as unique as you are!
Made in Germany: The Slim Wallet by I-CLIP is made in Germany - with a very high proportion of manual work.
Perfect as a gift: Each I-CLIP always comes in a gift box. So giving a gift is not only obvious, but also easy.
Optional RFID protection: Credit cards, with the contactless payment function, can be additionally protected with the two RFID cards from I-CLIP.
Technical Specifications:
Cover in vegetable tanned cowhide
Frame made of Stainless Steel
Money Clip made of high-tech plastic (Robutense)
Grip-Pads for protection of your cards in the steel frame
Credit card compartment holds up to 10 cards
Money clip offers space for a variety of banknotes and sales receipts
The cover of the I-CLIP is closed with a snap-fastener
Wallet-Dimensions:

 

3,54 x 2,3 x 0,59 in