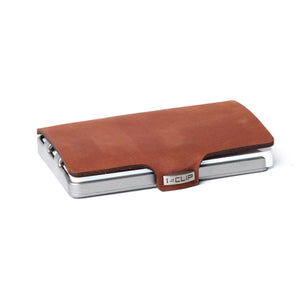 I-CLIP Original Silver Soft Touch Oak
Sale price Price $40.00 Regular price
The I-CLIP Soft Touch is made with thick, high-quality leather that is very soft to the touch yet highly durable. This stylish leather piece will gain natural character through daily use.
Holds up to 12 cards

Large card selection window for easy and quick access

Integrated money clip for your bills and receipts

Ultra slim shape fits comfortably in any pocket

Extremely lightweight, weighing just over half an ounce (18g)

Patented design made of Robutense, a high-tech plastic composite

Thick, high-quality, naturally tanned cowhide leather (We never use chrome tanned leathers)

Designed & Made in Germany
Awesome wallet
Took me 15 minutes to really understand how it works, especially with paper bills. Included guide sheet was useful. Totally love it
My second iClip so far
I ran my original iClip to the ground with a couple years of good use- and I looked forward to getting a new one and trying a different design. I'm enjoying an oak color soft-touch this time ! There's no other wallet I would ever use !!
What I was looking for!
The I-CLIP is very nice and pretty much what I was looking for. The last few months I was just carrying my Drivers License, a credit card and a couple bills with me instead of my bulky wallet. The I-CLIP now allows me to carry a couple more cards but yet stay with that small profile which is what I wanted. It's also a nice looking wallet. I'm waiting for someone to ask me about it!
Gifts for family members
Everyone liked their I-clips
Great product
Awesome choice for those looking for a small/functional wallet.
Can barely feel it, in pocket.
Awesome choice