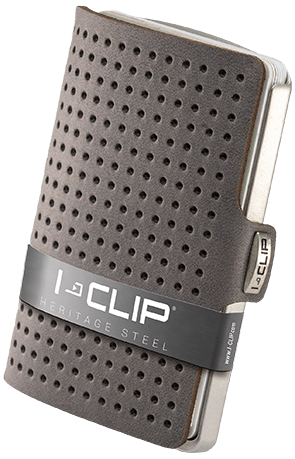 I-CLIP Steel Blasted AdvantageR Urban Grey
Sale price Price $100.00 Regular price $100.00
The New Heritage AdvantageR Models Made Of Stainless Steel
Unique handling: A new and simplified way to use your wallet. Say goodbye to your old, bulky wallet.
Clear & quick card selection: Thanks to the viewing window and the sliding technology, you have a quick and convenient overview of all your cards. The card case offers space for up to 10 cards.
Easy access to banknotes: The new note clip made of high-tech plastic holds a variety of notes (and receipts) securely and firmly so you can always pay quickly and easily.
The new stainless steel frame: The high-quality I-CLIP Heritage Steel models have a stainless steel frame. This is not only corrosion-resistant, temperature-resistant and skin-friendly, but above all hygienic, scratch-resistant and durable.
Leather cover design: Inspired by the perforated car climate leather seats, this beautiful AdvantageR leather cover is available in Urban Grey. The 2mm thick leather provides that certain exclusivity that also comes across in a modern sports car.
Develops unique patina: The I-CLIP leather develops a beautiful, individual patina over time. No two I-CLIPs are alike and your I-CLIP is as unique as you are!
Made in Germany: The Slim Wallet by I-CLIP is made in Germany - with a very high proportion of manual work.
Perfect as a gift: Each I-CLIP always comes in a gift box. So giving a gift is not only obvious, but also easy.
Optional RFID protection: Credit cards, with the contactless payment function, can be additionally protected with the two RFID cards from I-CLIP.
Technical Specifications:
Cover in vegetable tanned cowhide
Rahmen aus Edelstahl
Money Clip made of high-tech plastic (Robutense)
Grip-Pads for protection of your cards in the steel frame
Credit card compartment holds up to 10 cards
Money clip offers space for a variety of banknotes and sales receipts
The cover of the I-CLIP is closed with a snap-fastener
Wallet-Dimensions: 3,54 x 2,3 x 0,59 in