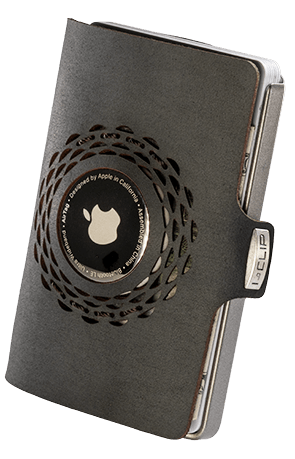 I-CLIP Original Silver Radio Impact Black
Sale price Price $45.00 Regular price $45.00
TECHNOLOGY MEETS FINEST LEATHER: The I-CLIP Radio Impact is tailored to fit the Apple AirTag * perfectly. [The Apple AirTag * is not included in the scope of delivery!]
EASY TO USE: Say goodbye to bulky and uncomfortable wallets. Thanks to the I-CLIP, simplicity has now become the new benchmark.
A CLEAR OVERVIEW & FAST CARD SELECTION: A unique feature is the resistance-free and card-protecting thumb-slide function for up to 12 cards.
ORGANIZED ACCESS TO BANKNOTES: The revolutionary high-tech clip keeps your banknotes safe and secure so you can always access them quickly and easily.
LEATHER COVER DESIGN: What really sets this leather cover apart from the rest is its unique laser cut and the slide-in compartment which is sewn in by hand. That ensures a stable and secure connection between the Apple AirTag * and the I-CLIP. [The Apple AirTag * is not included in the scope of delivery!]
UNIQUE PATINA: A special characteristic of the I-CLIP Soft Touch models is that their leather appears slightly matt and velvety when brand-new, but, with time and use, each wallet develops its own particularly noble, shiny and individual patina.
ULTRA-LIGHT & MAXIMUM FLEXIBILITY: Experience your own absolute lightness of being every day. The combination of the high-tech plastic frame and its integrated money clip make it a wallet like no other: Small, light, adaptable and comfortable to carry.
MADE IN GERMANY: What sets I-CLIP apart from many other slim wallets on the market is not only the handwork that goes into every I-CLIP, but also the quality-oriented fact that it really is Made in Germany.
PERFECT AS A GIFT: Each credit card-holding wallet is delivered in a matching gift box.
OPTIONAL RFID PROTECTION
If you deem it necessary, you can protect your credit cards from unauthorized contactless payment by ordering an RFID blocker card set from I-CLIP. However, you can also do without this function as the probability of the so-called "skimming" criminality is very low in general.
Technical Data
Cover made of vegetable tanned cowhide
Frame and money clip made of high-tech plastic (Robutense)
Card case holds up to 12 cards
Money clip holds a variety of bills and receipts
The cover of the I-CLIP closes with a push button
Wallet dimension: 8.8 x 6.5 x 1.6 cm
Air tag set up is of low quality…it falls out easily
Great Design & Product!!
Love How It Holds 4-5 Cards and Bills 💸 Perfectly!!
I am enjoying the wallet so far, really like the size and how well it fits in my front pocket