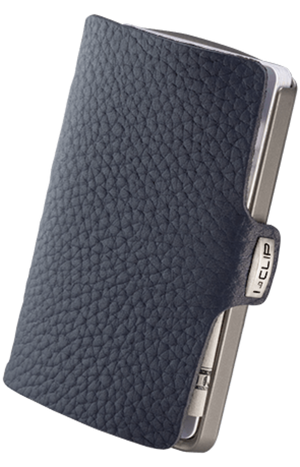 I-CLIP Titanium Blasted Pure Dark Blue
Sale price Price $150.00 Regular price $150.00
The New Heritage Titanium Blasted Pure Dark Blue Made of Titanium
Based on this phenomenon of nature we have created a very special I-CLIP.
The reassuring feeling of knowing what you have. An american British understatement:
Our classic Pure I-CLIP imbued with the aura of titanium.
Unique handling: A new and simplified way to use your wallet. Say goodbye to your old, bulky wallet.
Clear & quick card selection: Thanks to the viewing window and the sliding technology, you have a quick and convenient overview of all your cards. The card case offers space for up to 10 cards.
Easy access to banknotes: The new note clip made of high-tech plastic holds a variety of notes (and receipts) securely and firmly so you can always pay quickly and easily.
The new titanium frame: Velvety yet rough, the frames of our I-CLIP Heritage Titanium Blasted models not only seduce your hand. The matt finish is also alluring to the eyes.All frames in our Heritage Titanium series are made of titanium, an ultra-light, corrosion-resistant and high-strength material. Its outstanding properties are primarily used in aerospace and racing.
Leather cover design: Above all, the covers of the Pure I-Clip are characterised by the very popular full-grain look of its smartly elegant leather.
Develops unique patina: The I-CLIP leather develops a beautiful, individual patina over time. No two I-CLIPs are alike and your I-CLIP is as unique as you are!
Made in Germany: The Slim Wallet by I-CLIP is made in Germany - with a very high proportion of manual work.
Perfect as a gift: Each I-CLIP always comes in a gift box. So giving a gift is not only obvious, but also easy.
Optional RFID protection: Credit cards, with the contactless payment function, can be additionally protected with the two RFID cards from I-CLIP.
Technical Specifications:
Cover in vegetable tanned cowhide
Frame made of Titanium
Money Clip made of high-tech plastic (Robutense)
Grip-Pads for protection of your cards in the titanium frame
Credit card compartment holds up to 10 cards
Money clip offers space for a variety of banknotes and sales receipts
The cover of the I-CLIP is closed with a snap-fastener
Wallet-Dimensions: 3,54 x 2,3 x 0,59 in